International Stallion Guide
The International Stallion Guide for Sport Horses publication is a treasured resource for those interested in sport horse and warmblood genetics and the value they have on today's breeding programs. Stallion profiles are laid out in a professional format with stud fees, photos, contact information, a three generation pedigree and competition results. In addition, each annual publication includes the very popular "Reference Sire" section featuring 10 legends whose names are found throughout modern day pedigrees and their contribution to current sport horse breeding programs. With its "coil binding", this high quality publication is a collectable book that will bring years of enjoyment to horse breeders.
Print the order form and mail along with Canadian/USA cheque or money order.
2012 Edition – $12.99
2011 Edition – $12.99
2009-2010 Edition – $12.99
2008 Edition – $12.99
Best Deal – Order all 4 editions – $45.00
Price includes tax, shipping and handling to North American destinations.
Offer is available while quantities last.
INTERNATIONAL STALLION GUIDE – BACK ISSUES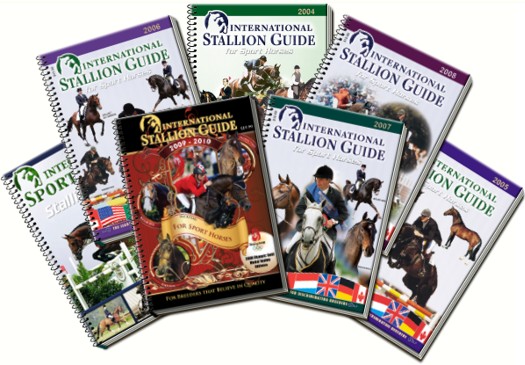 Reference Sires:
Donnerhall
Escudo I
Farn
For Pleasure
Furioso II
Grande
Grannus
Landadel
Landgraf I
Lugano I
Reference Sires:
Acord II
Ahorn
Burggraaf
Calido I
Capitol I
Cassini I
Cor De La Bryere
Cottage Son XX
Cruising
Darco
2008 Olympic Gold Medal Horses:
Hickstead
Marius Voigt-Logistik
Keltec Salinero
Authentic
Carlsson Vom Dach
Cedric
Sapphire
Bonaparte
Elvis Va
Satchmo
Butts Leon
FRH Butts Abraxxas
Mr. Medicott
The Ghost of Hamish
Reference Sires:
Sandro (Sacramento Song xx x Duerte)
Sea Crest (Knockboy x Sea Spray)
Ulft (Le Mexico x Pia)
Voltaire (Furioso II x Gogo Moeve)
Warkant (World Cup x Grandel)
Welt As (Weltmeister x Elfene)
Weltmeyer (World Cup x Anka)
Wenderkreis (Ferdinand x Domgottin)
Woermann (Woehler x Mandat)
Zeus (Arlequin x Arielle)
Reference Sires:
Nimmerdor (Farn x Ramonaa)
Pik Bube I (Pik Koenig x Franka)
Pilot (Pilatus x Gratia)
Polydor (Pilatus x Fata Morgana)
Prince Thatch xx (Thatch x Petroleuse)
Quidam de Revel (Jalisco B x Dirka)
Ramiro (Raimond x Valine)
Ramzes x (Rittersporn x Jordi)
Rantzau xx (Foxlight x Rancune)
Rubinstein I (Rosenkavalier x Antine)
Reference Sires:
Ladykiller xx (Sailing Light x Lone Beech)
Landadel (Langraf I x Novella)
Landgraf I (Ladykiller xx x Warthburg)
Lauries Crusador xx (Welsh Pageant x Square Note)
Le Mexico Keur (Mexico x Peche Melba)
Lucky Boy xx (Compromise x Sejane)
Lugano I (Der Lowe xx x Altwunder)
Man O'war xx (Fair Play x Mahuba)
Nearco xx (Pharos x Nogara)
Olympic Ferro (Ulft x Brenda)
Reference Sires:
Ferdinand (Ferrara x Herzenskind)
Florestan (Fidelio x Raute)
Furioso xx (Furiosco xx x Dame de Ranville)
Galoubet A (Alme x Viti)
Gotthard (Goldfisch II x Ampa)
Grande (Graf x Duellfest)
Hyperion xx (Gainsborough x Selene)
Inshallah AA (Isreal x Resena)
Jalisco B (Alme x Tanagra)
King of Diamonds (Errigal x Ruby)
Reference Sires:
Abglanz (Termit x Abendluft)
Alme (Ibrahim x Girondine)
Argentinus (Argentan x Dorle)
Bolero (Black Sky x Baronesse)
Burggraaf (Landgraf I x Loanda)
Clover Hill (Golden Breaker xx x Ohilly Beauty)
Cor de la Bryere (Rantzau xx x Quenotte)
Der Lowe xx (Lehnsherrin x Wahnfreid)
Donnerhall (Donnerwetter x Ninette)
Duft II (Duellant x Gotensage)