Flexible and Rich Fellers (USA)
Posted: August 29, 2012
Reported from Carol Ives Facebook Sporthorse Marketing Internationale.
Rich and Flexible had a clear round in the 20 horse jump off but the 5 penalty points from the first round kept them from the medals. They ended their Olympic experience with a beautiful clear round. We are all very proud of Rich and Flexible.
Steve Guerdat of Switzerland has won the Gold Medal in Show Jumping at the 2012 London Olympics. Ireland won the Bronze and Netherlands has won the Silver.
Note from Harry and Molly Chapman, owners of Flexible.
Molly and I are SUPER thrilled with Riches' and Flexibles' performances here in London. They were the BEST performer on the US Team and finished 8th overall. That puts them IN THE TOP 10 in the WORLD in our book. Not too bad for a couple of red necks from Orygon.
Read Rich & Flexible's Olympic Journey.
Visit Flexible's stallion page for breeding information, YouTube videos and contact information.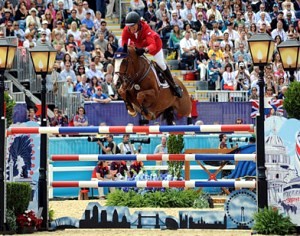 Flexible ch.s., 16 h, Irish-bred Sport Horse
(Cruising – Flex, Safari)
owned by Harry and Mollie Chapman