August News from Hilltop
Posted: August 29, 2012
This year's Olympics were especially exciting for us as one of Hilltop's International stallions, Negro (Ferro – Variant), was represented by his very impressive son Valegro (Negro – Gershwin). Under Charlotte Dujardin's ride Valegro, owned by Carl Hester and Rowena Laurd, made a fantastic Olympic debut. The pair impressed the world by breaking three Olympic records while at the London Games. As if capturing the team gold medal with her fellow British teammates wasn't enough, Charlotte and Valegro went on to win the Grand Prix Freestyle with a personal best of 90.089% and take home the individual gold medal. Congratulations to Charlotte, Carl Hester, and all of Valegro's connections for a truly historic Olympics!
Stallion News:
This summer seems to be packed full of important inspection results to share. At Hilltop Farm's recent American Hanoverian Society Inspection, Marydell Farm's 4-year old stallion Doctor Wendell MF (Don Principe – Sandro Hit) was presented and licensed. Doctor Wendell MF marks the first licensed son for Hilltop's Guest Stallion Don Principe (Donnerhall – Prince Thatch xx), also owned by Marydell Farm. Both Don Principe and Doctor Wendell will stand at Hilltop Farm in 2013.
The following weekend Doctor Wendell MF and Hemmingway (Hofrat – Archipel) attend the GOV Inspection at Crosiadore Farm. Doctor Wendell MF and Hemmingway, owned by Rock Solid Warmbloods, were approved to a limited book of mares. We're especially proud to be presenting North American-bred stallion prospects these past few years and are excited about the growth this shows for our domestic breeding programs.
Hemmingway and Hilltop Farm's stallion Qredit (Quaterback – Dream of Glory) will attend the USEF Young Horse National Championships later this month and then continue on to the 70 Day Test. It's going to be a pressure filled fall for these two stallions, but we're confident they are more than up for the challenge.
Offspring Inspection Results:
We are always excited to hear inspection results from all of our breeders but the arrival of Qredit's first foal crop makes this year even more exciting. Meg Sherman's filly Quite Feine (Qredit – Feiner Stern) was the first Qredit foal to be inspected. The filly earned many compliments from the GOV and was designated a Premium Foal and Foal of Distinction.
Royal Prince and Contucci continue to prove their influence as sires as the inspection results begin to come in from around the country. In New York, Contucci colt Copycat HHF (Contucci – Bordeaux), owned and bred by Christine Kropf, was the Top Foal at his AHS inspection. In Tennessee, Dara Lindner's Royal Prince – Manhattan colt received numerous compliments at his GOV inspection earning the status of Premium Foal and Foal of Distinction. On the westcoast, Carol DiMaggio's Royal Prince colt Rohmeo (Royal Prince – Lord Liberty G) was awarded Premium status by the GOV and Stallion Prospect. Keep us sending these wonderful reports throughout the inspection tour!
Visit Hilltop Farm Inc. for the full report.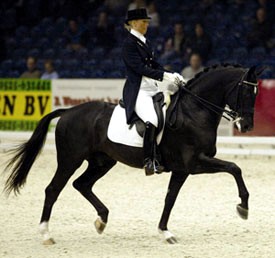 Negro (Ferro – Variant) owned by Van Olst Stables
Photo: Dirk Caremans